HWG Sababa is a cybersecurity supplier that offers a comprehensive suite of strategic managed security solutions, services, and consultancy. It was founded in 2023 through the merger of HWG, one of Italy's primary Security Operations Centers, with Sababa Security, a leading cybersecurity provider specializing in integrated and customized security solutions to protect IT, OT, and IoT environments from cyber threats.
Becoming the HWG Sababa company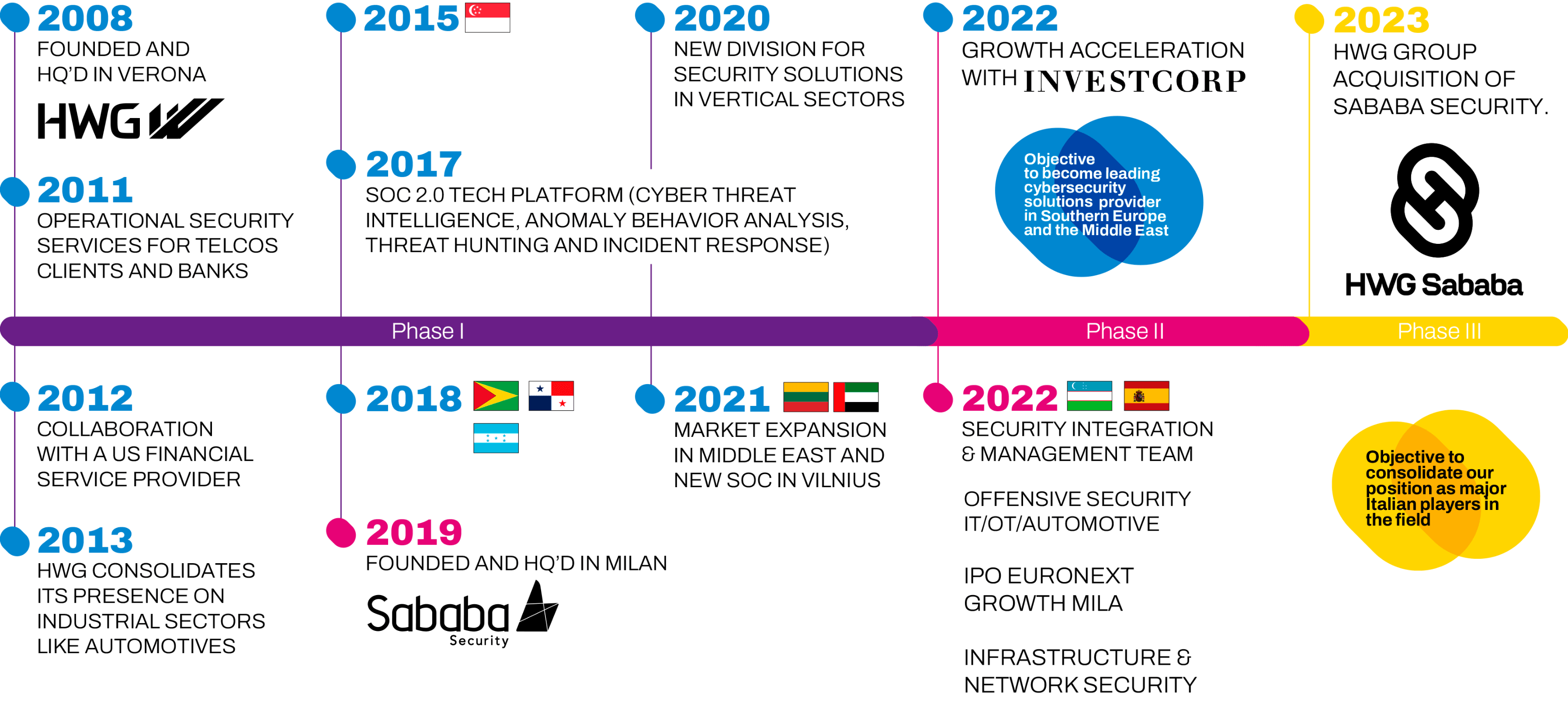 A Made in Italy company, HWG Sababa operates in over 20 countries globally, safeguarding the digital infrastructures of enterprises across various sectors, including finance, central banks, energy, utilities, critical infrastructures, automotive, fashion, and telco, providing support across the entire value chain.
In an ever-changing economic landscape, cyber threats evolve rapidly, exploiting the extended digital perimeters that companies have expanded beyond their IT infrastructure. It is essential for enterprises to respond to this complexity and secure their sensitive data across all domains. HWG Sababa assists in deploying cutting-edge technologies and talent, building robust systems – often from the ground up, but primarily by filling in missing cybersecurity components – to instil confidence and offer peace of mind to customers.
A team of cybersecurity consultants and executives in general and vertical security standards across IT, OT and Automotive domains.
SOLUTION integration & MANAGEMENT
Certified team of experts, who test, implement, configure, regularly check and update your security solutions, fully handling cybersecurity routine as an external team.
Full 3-level Security Operations Center for key verticals (including 15 Central Banks) since 2008, handling IT, OT and Vehicle SOC projects.
Headed by the
founder, the team consolidates methodology and multiple CVEs discovered over years, providing transversal competences in IT/OT/IoT/Automotive penetration testing.
Almost 3 decades of designing, building and maintaining secure architectures that balance usability and cost effectiveness, when introducing new technologies in addition or instead of current ones.
Leveraging from 20+ years of experience in the field of industrial automation with the focus on security, the team develops and tests environment and conduct training on various security aspects.