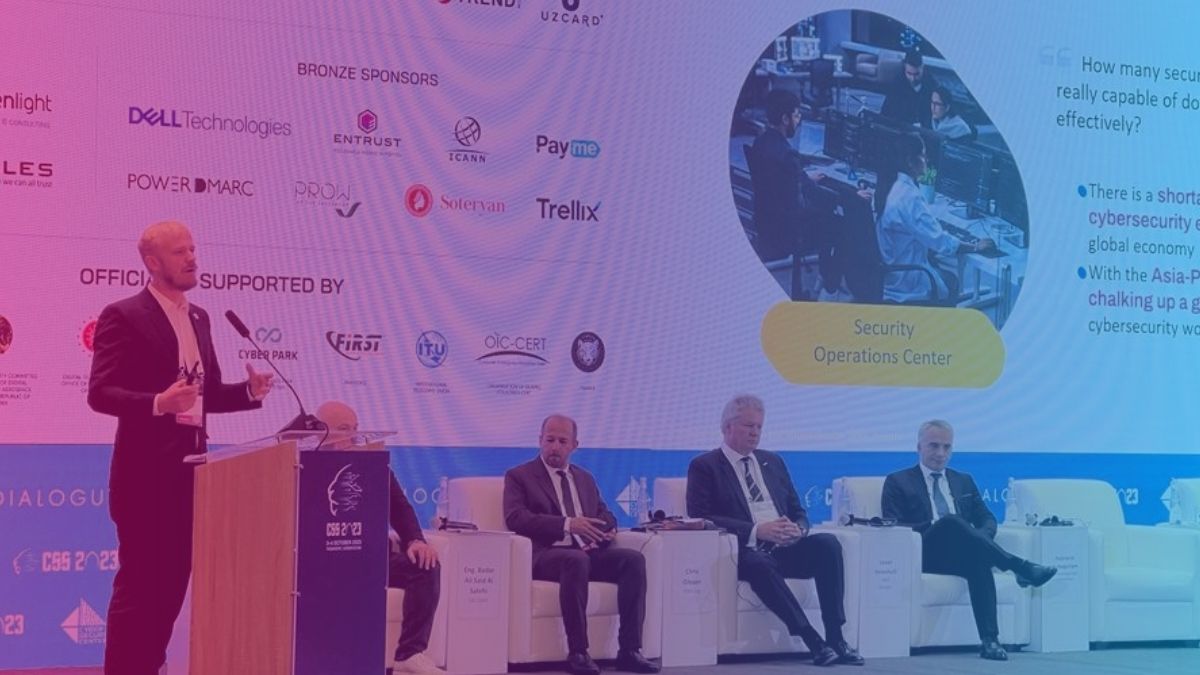 HWG Sababa took part in the new edition of the Cyber ​​Security Summit Central Eurasia to talk about cybersecurity in the era of digital transformation
October, 3, 2023 – HWG Sababa, company specializing in providing cybersecurity that offers a complete suite of managed strategic security solutions, services and consultancy, took part in the 2023 edition of the Cyber ​​Security Summit – Central Eurasia, the conference that brings together national security centers from across Central Eurasia, cybersecurity solution providers and government, commercial and industrial end users.
This new edition explored the evolving global risk landscape and how cybersecurity can help countries in the region fully exploit the socio-economic benefits offered by digitalization. And it is precisely in this scenario that HWG Sababa, as Main Partner, took part in the plenary session together with many international guests.
Alessio Aceti, HWG Sababa CEO, was one of the speakers at the conference Cyber Security in the Age of Digital Transformation: Collaboration, Intelligence & Attribution, which was held on October 3 at 9:00 am: an opportunity to also tell to the decision-makers public and industry experts present at the conference about the new Italian center of excellence in cybersecurity born from the agreement between HWG and Sababa, in able to face the complex challenges of the market, offering customers specialized and complete services.
Furthermore, during his speech, Aceti focused the attention on the SOC (Security Operation Center), essential to guarantee an adequate level of protection of IT systems, underlining the advantages that come from a managed SOC, including the importance of 24/7 of customers' digital environments to neutralize cyber-attacks and to protect digital infrastructures, and the support of a team of over 170 experts completely focused on cybersecurity.
Since 2021, HWG Sababa has been present in Uzbekistan with its own office as the base of its main hub in Central Asia. The presence in this territory strengthens the bond with this country: for years, in fact, the company has collaborated with important universities, such as the MDIS University of Tashkent, the National University and the TUIT (Tashkent University of Information Technologies) and is a supplier of cyber security technologies and solutions for important companies such as banks and supermarket chains.
"We are in a period in which digital transformation is driving important changes in various sectors, including cybersecurity. This is why it is necessary for companies to understand the importance of protecting their data in an increasingly technological and interconnected environment", commented Alessio Aceti, CEO of HWG Sababa. "Thanks to our solid experience in the cybersecurity sector, at HWG Sababa we position ourselves as strategic partners for the companies with which we collaborate, keeping up with the times and operating even in the most complex scenarios in order to guarantee the best possible coverage and protection".
To learn more, visit www.hwgsababa.com/en.
HWG Sababa is a cybersecurity company specialized in offering a suite of strategic security solutions, managed services and consulting. It was born in 2023 from the merger of HWG and Sababa Security. As a proudly Made in Italy company, HWG Sababa is headquartered in Verona and has offices in Milan, Rome, Genoa, Turin, Bergamo, Bari, Madrid, Dubai, Vilnius, and Tashkent. The company operates in more than 20 countries globally, safeguarding the digital infrastructure of enterprises in various sectors, including finance, central banking, energy, utilities, critical infrastructure, automotive, fashion, and telecommunications, providing support along the entire value chain. With a solid reputation in the industry, HWG Sababa has emerged as a central point of reference for cybersecurity, offering a wide range of products and services to meet all cybersecurity needs throughout the entire cybersecurity lifecycle. HWG Sababa's goal is to achieve growth through internationalization in the Mediterranean region. This growth will be facilitated by a successful business model, development of new proprietary technologies, strengthening of the organizational structure, and strategic M&A transactions aimed at acquiring companies with potential synergies that can be integrated into a business model that generates even greater value for the company and its stakeholders.
Press contacts
NOESIS
Cristina Barelli / Federica Ciocia
+39 328 8658721
TEAM LEWIS
Valentina Zunino / Giulia Zonfrilli
+39 02 36531375